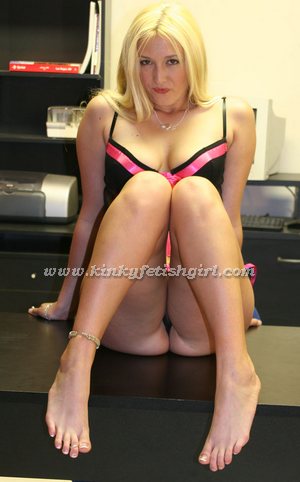 I can still remember the first time a boy kissed my feet.  He was one of my first boyfriends and he had a foot fetish. The way he would kiss and suck each of my toes so adoringly was very erotic.  I learned at an early age to enjoy the eroticism of foot worship and that's one reason why I enjoy foot fetish phone sex so much now.
With foot fetish phone sex, there are so many possibilities! For some,  toes are the big turn.  Or it might be beautiful perfectly pedicured feet.  Or dirty sweaty feet.  Or maybe you like to see a woman's feet in stockings or socks or a certain kind of shoe.   Whatever the differences though, for many men with a foot fetish, being able to sniff, lick or kiss a woman's feet can be more exciting than the best sex they've ever had.
I love talking to men who also have a shoe fetish for high heels because I love the feel of sexy high heels on my feet. They showcase my legs in a way that can make a man weak.  A woman in sexy high heels exudes the kind of subtle female sexual power that almost any man can appreciate, even those not into more hardcore female domination. Many of my foot fetish callers don't want a dominatrix but they do love a woman like me who enjoys teasing and controlling a cock with her feet.
Or maybe it's the thought of a foot job that pushes your buttons?  My sexy feet between your legs, using my toes to tickle your aching balls before nestling your throbbing cock between my feet.  Then stroking and stroking it between my feet until you can't hold back a second longer and your cum splatters all over my pretty feet.  Mmmmm …..
So whether you're s submissive foot boy or simply love foot worship,  let's explore your foot fetish fantasies together!